What are the best two states in life? If you asked this question of a lot of different people, you would get a range of different answers.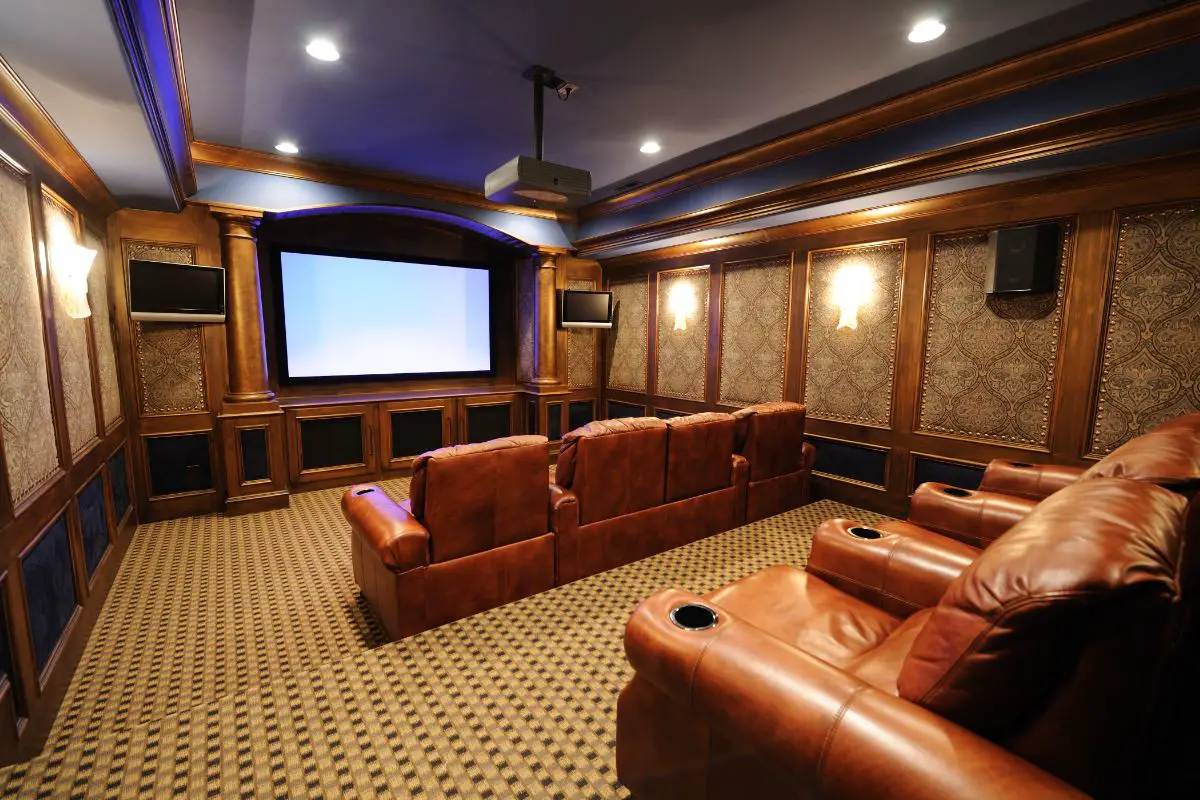 However, there are really only two correct ones: in bed and at the movie theater.
Honestly, bed is one of the coziest and most comfortable places in life – which is probably why humans spend a third of their life asleep.
At the same time, the movie theater is the place to be in those moments where you're awake.
There is simply no better hobby than enjoying your favorite movies on an enormous screen with crisp, loud surround sound speakers offering up the audio.
But what if you could combine the two states? What if you could have a movie theater with a bed in it? Well, you can!
All across America, a whole series of movie theaters with beds have popped up, so you can lie down in comfort while you watch your movie.
These are going to be the focus of our list today.
However, these theaters are still not quite everywhere, so to account for the people who can't travel to them, we'll count movie theaters with recliners too.
After all, it's mostly the same thing – you get to kick back and relax while taking in the latest blockbuster.
If you haven't been to an Emagine movie theater, then you're undoubtedly missing out. Why?
They have some of the most luxurious seating in the cinema world, with seats that are so comfortable you might run the risk of falling asleep and missing your movies!
When you go to an Emagine, you've got a choice of different seats to have.
The unquestionable best are their "power recliners", which are exactly as good as they sound.
Their power recliner seats are like little thrones, really! For one thing, they're very large, giving you plenty of room to move around in and get lost in.
These are seats that you can properly sink into if you want to, immersing yourself in their soft cushion.
Secondly, the chairs are totally electric, allowing you to move them around and recline your seat back to exactly the angle that you are most comfortable sitting at.
Emagine movie theaters also offer some leather rocking chairs, which are also a treat to sit in, if not quite a recliner.
You may not think of rocking chairs when you picture movie theater seating, and you might assume that rocking up and down might make the enormous screen seem a bit trippy and confusing, but you'd be surprised!
A rocking chair can give you exactly the right gentle rhythm of movement to enjoy your movie even more.
You won't be able to get the power recliners at all Emagine movie theaters, unfortunately, but changes are underway to get them rolled out (or should that be reclined?) at many more of their theaters soon.
Similarly, some of their theaters offer heated seating, which makes the movie-watching experience even more relaxing.
These aren't available at all locations, though, but should become more available over time.
Emagine customers are through the roof with happiness over their seating arrangements, and it's understandable to see why.
Customers have enthused online about how comfortable the power recliners are, as well as the fact that you can have food delivered to your seat during the movie.
What's better than lying back with a movie? Lying back and eating with a movie! Better yet, customers are impressed with the pricing too.
You don't have to pay royalty prices in order to sit on a throne.
As you can tell from the name of this branch of the enormously successful movie theater chain Cinépolis, you're going to get enormous comfort.
Seriously, Cinépolis Luxury takes the already great standard theaters that Cinépolis offers and makes it even better.
How so? Well, they offer a movie watching environment that's difficult to beat.
Customers can enjoy a neat, elegant movie theater room, with plenty of fully-reclining leather seats.
These seats are especially big, meaning that you can really lose yourself in their comforting goodness, and the reclining options allow you to adjust the bag to fit your comfort tastes just right.
Better yet, the seats are presented in intimate pairs, with a sort-of bedside table separating each pair from the next.
This allows you to sit with your significant other all to yourselves, allowing you to enjoy the movie as if you're alone with each other.
Alternatively, you can have your family neatly divided into little pairs, each feeling safe and secure in the theater.
On top of that, each seat has waiter service, meaning that you can get plenty of meals delivered to you while you enjoy the movie watching experience.
These meals come from the gourmet kitchen that Cinépolis Luxury has onsite, cooking up tasty treats for your mouth to water over.
Better yet, there's a bar for the adults. That's right, you can have an ice cold beer delivered to you while you're watching your favorite movie.
If that isn't the definition of paradise, I don't know what is.
There's recliner chairs, and then there's beds. This is the latter.
iPic movie theaters are famous for being the only theaters in the United States to have beds permanently installed in a few of their locations, making them one of the very best movie theaters in the world by default.
If you thought it was nice getting to recline the back of your seat back, you'll be on cloud nine when you see the luxurious beds that are available at some iPic movie theaters.
They have plush yellow cushions for you to lie back on, with a raised back and a built-in pillow, allowing you to lie back with your feet up like you're some kind of Roman emperor.
Better yet, there's a fixed table in the middle, meaning that you can have your food and drink right in front of you at arm's length.
On top of that, each bed is neatly designed so that it fits two people.
So, if you're going to the movie theater with your partner, you can both enjoy lying down next to each other as you watch the movie.
The beds are at the very front of the movie theater, so you don't have to be interrupted by any people in seats getting up repeatedly.
Customers love these beds – and we can't blame them!
Most customers praise the seating as being super comfy, as well as loving the waiter service that brings you food during the movie, allowing you to eat and watch at your own leisure and pleasure.
Everyone knows AMC, it's one of the biggest movie theater chains in the entire United States.
Naturally, they've had to offer an exceptional service to its many customers in order to get this reputation.
This exceptional service comes in many ways.
As you can guess, their seating is one of the factors that has helped them rocket to the top spots of moviegoing experiences in America.
How so? Well, they've got supremely luxurious reclining seating. Seats are plush and comfortable, with red cushioning and firm armrests.
Like with Cinépolis Luxury, the seats are put into pairs, allowing you to sit more privately with your moviegoing partner, separated from all the other patrons.
Admittedly, AMC doesn't have bed seats yet, but their reclining seats are brilliant on their own. On top of that, each seat has a raised table in front of it.
This is for the food – oh the food!
Many AMC movie theaters have been adapted to offer a full movie dining experience, with a whole range of food being brought to you as you watch your favorite movie play out on the enormous screen in front.
Plenty of AMC movie theater locations offer up gourmet menus for you to indulge in, with more locations hopefully on the way.
In addition to that gourmet quality, many of these movie-food experience theaters also have a bar that is fully licensed.
This means that the adults among you will be able to enjoy a few drinks with your movie, a waiter bringing them to your seat.
There's nothing like having a slight liquid buzz while you're watching an enormous blockbuster play out on screen – it'll make it even more exhilarating!
Customers all over the United States love AMC, which is why they're such a massively successful movie theater chain.
Their patrons love to enthuse about how comfortable the reclining seats are, with moviegoing experiences never being so comfortable before for some.
The seats are large and soft, perfect for relaxing in, while the screen and speakers are situated in exactly the right place for a perfect all-round movie experience.
Regal is also one of the most well known movie theater chains in the United States, along with their subsidiaries of Edwards and UA.
They all work together to make one big deluxe moviegoing experience.
Better yet, they always keep on top of the game, meaning that once deluxe, reclining seating took over the movie theater world, they got rid of their old seating and installed the comfortable recliners that we've come to know and love.
You can always rely on Regal to be at the forefront of the movie theater experience. The reclining seats in question are the finest of the finest.
They are jet black, looking very elegant and cool, with large padded cushions and headrests.
They have firm armrests for you to rest your tired arms, as well as slot your drink into for easy access.
Additionally, the arm rests also have a little table that you can swing around to sit perfectly in front of you, giving you somewhere to put your movie snacks.
You can even have two in front of you, if the person in the seat next to you doesn't want theirs! Flexibility is king here, and you can find comfort your way.
The seats also have padded footrests that come up, allowing you to stretch out with your feet up as you watch the spectacle unfold on the enormous screen in front.
All these features allow you to take up the perfect (and most perfectly comfortable) seating position imaginable as you watch the movie, making Regal movie theaters one of the best chains available to US audiences.
Those audiences are certainly happy with the results, too!
There are countless positive reviews from happy Regal customers, many enthusing about the extreme comfort of the reclining seats.
Stripping out the old seats and replacing them with new reclining luxury was clearly a smart business decision for Regal!
You may not have been to a Marcus Theater before, but we can assure you that you're missing out if you haven't.
This is largely due to their commitment to the best, most luxurious seating imaginable.
Their theaters are kitted out with the very best reclining seats, with plush red cushions that simply shine in the glow of the movie screen.
Is there anything more inviting? Well, yes actually! All the other features of the seats.
See, the seats are very tall, with perfectly plump headrests at the top to rest your tired on – better than any pillow! On top of that, the seats have soft armrests too.
Each has a firm one with a cupholder, and a slightly shorter one that you share with the person in the seat next to you.
Once again, this is one of those movie theaters that promotes little intimate pairing of seats to enjoy with your significant other.
Better yet, the seats are fully automatic, allowing you to recline exactly as much as you want.
Each one also has more than 7 feet of room for you to stretch into, allowing you to be fully comfortable while you watch the movie.
If you aren't sold already, we'll let you in on what Marcus Theaters call these luxurious seats: DreamLoungers.
Does any phrase conjure up images of comfort, sleep, and bliss more than "DreamLounger"?
This is certainly the lounger of your dreams and guaranteed to give you a great time at the movies. Customers agree, too!
They simply adore the leather recliner seats, especially loving the height and size of them for accommodating people of different proportions.
Studio Movie Grill offers comfortable seating all around, with all their different types, but let's be honest: why would you choose anything but their premium luxury recliners?
These beige seats are padded to perfection, with comfortable headrests and a soft body for you to relax in.
On top of that, they have footrests that come up, if you want them.
Sometimes there is nothing better than laying back with your feet up as you watch some massive action spectacle play out on the theater screen.
Additionally, there are tables which fold out across you, allowing you to easily reach your food and drink whenever you want.
With Studio Movie Grill, their mission is easiness and comfort, and their plush recliners certainly offer it in spades.
Customers agree, as well! They love how comfortable the recliners are, as well as the variety of food that you can have while sitting back.
The Harkins movie theater chain already offers great moviegoing experiences, but their string of deluxe CINÉ 1 and CINÉ 1 XL movie theaters offer premium viewing experiences that are second to none.
Seriously, these places are kitted out to help you experience movies as they were meant to be experiences.
We're talking the biggest screens, the very best visuals, the crispest sound, and the greatest luxury seatings. This is a pleasure palace, really!
These theaters may not be available everywhere, but honestly they're probably worth traveling too just for the experience.
Once you try one out, you'll never want to go back to a regular movie theater.
A large part of that is due to the luxurious seating, of course, which is fantastic.
A CINÉ 1 movie theater is typically fitted out with 400 leather recliner seats, known as the "Ultimate Lounger" – which is to the point!
You can enjoy your ultimate lounging in these seats thanks to their soft leather, which is plush to the touch and extremely comfortable to lay back in.
On top of that, the movie theaters are very accessible.
They have good handicap seating, allowing handicapped people to enjoy the movies just as easily, as well as easy access to the toilets.
Additionally, there is a food delivery service in place.
You can pick from a great range of delicious snacks and meals, which are then delivered straight to your seat during the movie. Feeling a bit peckish halfway through?
Simply order another meal, and it'll be by your side (and in your mouth) in no time. That's what we call luxury!
Easiness really is the name of the game with Harkins CINÉ 1.
As if all those deluxe features weren't enough, they have even had a PlayCenter for leaving your kids in.
If you're planning to enjoy a slightly more adult film with your significant other, or you just want some private time to share together, you can leave a child (if they're between 3 and 8 years old) in the PlayCenter where they will be supervised and entertained.
These have been known to get temporarily closed, but should be up and running when you need them.
Customers simply love Harkins CINÉ 1, praising the roomy and comfortable reclining chairs and the cleanliness of the theaters.
As you can tell from the name, Movie Tavern offer you delicious alcoholic drinks while you're watching the movie – combining a bar and a movie theater.
However, this isn't the only luxury that they present their happy customers with.
That's right, Movie Tavern are one of the top class movie theaters that offer wonderful reclining seats.
These padded black seats are luxurious to relax in while you enjoy your drink, which can sit on a movable table that moves over your lap – or can be pushed to the side for when you need to get out.
On top of that, each of the seats have a footrest that comes up to lay your feet on.
That is, if you want it – you can fully choose whether to have the comfortable footrest up whenever you please.
Better yet, each luxury recliner seat has a call button that allows you to get the attention of the food and drink waiting service.
You see, it isn't just a variety of delicious alcoholic beverages that Movie Tavern (though those include wine, beer, cocktails, and more) that you can have delivered during the comfort of the movie.
No, you can have delicious meals too to enjoy alongside them.
Customers love the sheer comfort of the chairs, which they think are perfect for letting you settle into the groove of a full length movie.
With a name like that, MJR are going to need to live up to their words. Can they get the moviegoing experience just right? Well, they can actually!
Though they may not have deluxe recliner seating fitted at every one of their MJR movie theater locations across the United States, the number should be growing and soon they'll be a lot more available.
As for those deluxe recliner seats, let's have a look at them. They're all jet black, looking very stylish, and each one has enormously plush and padded leather cushioning.
Just looking at one of these shiny thrones makes you want to sink into one for the rest of the day – and maybe even the night too!
We can see ourselves sleeping in one, certainly.
Better yet, the seats are electric, meaning that you can move them to your heart's content and recline back as much as you would like.
They may not be quite as laid back as movie theaters with full beds, but they're certainly close, and offer up some of the most luxurious theater seating available.
Customers simply love the reclining seats, citing their sheer comfort and versatility as being a treat to sit in.
Better yet, there's plenty of legroom, so you can stretch out as much as you like while you enjoy your favorite movie.
Final Thoughts
As you can see, movie theaters pride themselves on luxury.
It isn't just about delivering a great quality movie projection experience, it's about ensuring that you're comfortable while you watch it.
Thankfully, our list gives you plenty of movie theater options for this that you can seek out.
If you liked this article, you might enjoy our post, 'AMC Concession Prices'.
Latest posts by Max Roberts
(see all)